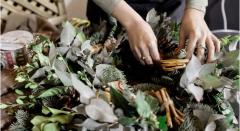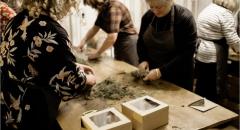 There is a whole heap of love and passion for flowers at TDD HQ, even though we love getting our hands dirty we also love to share our knowledge and expertise with you.
"Why tell your secret" I hear you say. I believe that a secret as good as this, is definitely worth sharing.
Christmas Wreath Workshops 2020
Let us help you get into the Christmas spirit with our Christmas Wreath workshops.  This year we are very pleased to offer you not one but two options for making your very own Christmas Wreath with The Dancing Daffodil!
Either in person, at The Old House 1147 in Llangynwyd, Maesteg or by receiving our Christmas Wreath box through the post!
1) In Person Workshop
Venue: The Old House 1147, Llangyn, Maesteg, CF34 9SB
Dates Available: Sun 29th November or Sun 13th December 2020
Price: £65.00
Includes Christmas Wreath class, Mulled wine and 2 course hot fork buffet.  Places are limited to 30 people per workshop and is on a first come first served basis.  To reserve your space, click on the button below
2) Christmas Wreath Box
We will be creating a video, with a detailed step by step guide to creating your beautiful wreath in the comfort (and safety) of your own home ?
As well as the video, we will provide you with all the materials required, and there's also the option to add on some festive treats from Joio South Wales
We do hold out some hope that COVID-19 will be gone by then, so with that in mind anybody who pre-orders one of these Christmas boxes will have the option to exchange for a face to face class for an extra £7.50 ❤️
Price: Christmas Wreath Box £40.00
Optional Festive Treats from Joio from £15.00
To order your Christmas Wreath Box, just click on the button below