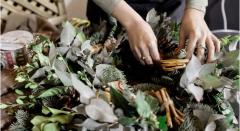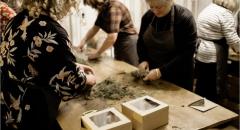 There is a whole heap of love and passion for flowers at TDD HQ, even though we love getting our hands dirty we also love to share our knowledge and expertise with you.
"Why tell your secret" I hear you say. I believe that a secret as good as this, is definitely worth sharing.
🌸

The Dancing Daffodil School of Flowers Introduction to Floristry – 2 Day Creative Course

🌸
21st – 22nd February 2023
The perfect way to dip your toes into the beautiful world of floristry, immerse yourself in gorgeous blooms and explore flowers in a possible new direction.
In our relaxed and cosy HQ, we will introduce you to the basic principles of floristry, allowing you to create a range of floral pieces with the support and guidance of our talented team. Over the two days, you will make and take away a hand-tied bouquet, a foliage wreath, a seasonal centrepiece and a floral crown.
The course will take place at The Dancing Daffodil from 10 am-4 pm, and will include a lovely light lunch, and of course, plenty of cake (floristry essentials!).
🌸 £450 per budding florist, contact us for more info or to book your place. Payment can be made in instalments, with a deposit to secure your place 🌸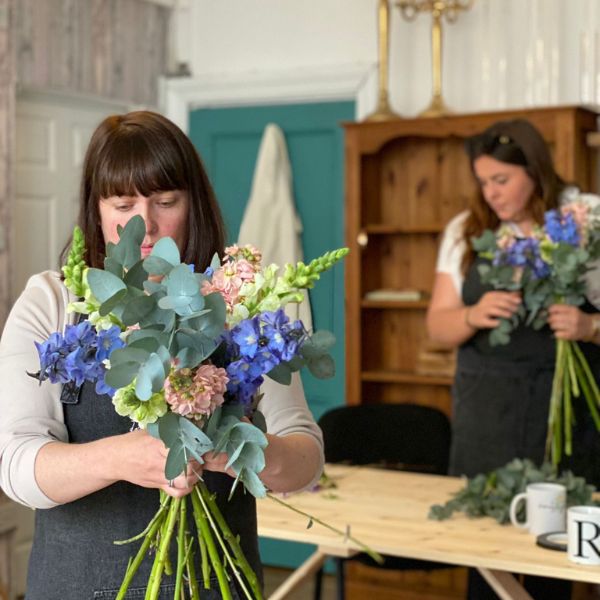 Autumn Wreath Workshops 2022
Venue: Full of Graze, 696 Mumbles Road,  Mumbles, Swansea SA3 4EH
Dates Available: Tues 11th October 2022
Time: 5pm
Cost: £90.00
Includes Wreath Class and Grazing board and glass of fizz
Places are limited to 10 people per workshop and is on a first-come first-served basis.  To reserve your space, click on the button below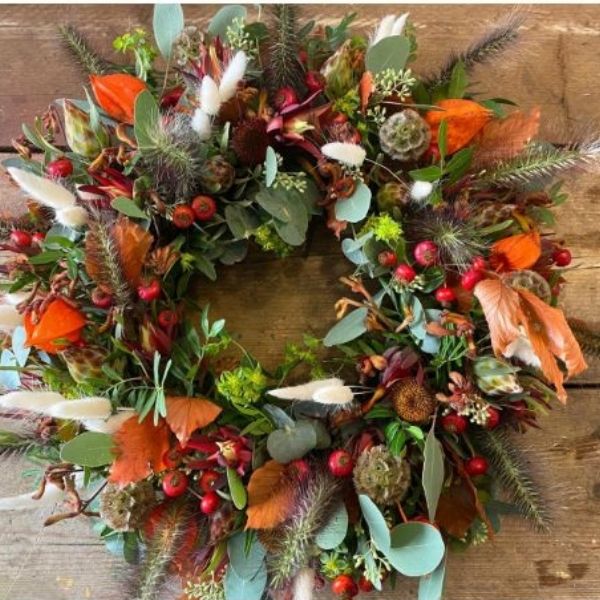 Christmas Wreath Workshops 2022
Let us help you get into the Christmas spirit with our Christmas Wreath workshops.  This year we are very pleased to offer you not one but two options for making your very own Christmas Wreath with The Dancing Daffodil!
Either in-person, at The Old House 1147 in Llangynwyd, Maesteg or Full of Graze Mumbles, Swansea or by receiving our Christmas Wreath box through the post (details coming soon!)
1) In-Person Workshops
Venue: The Old House 1147, Llangynwyd, Maesteg, CF34 9SB
Dates Available: Sun 27th November 2022, Sun 4th December 2022 and Sun 11th December 2022
Time: 6pm
Cost: £85.00
Includes Christmas Wreath class, 2 course Christmas meal with Mulled wine and your own wreath.  Places are limited to 50 people per workshop and are on a first-come-first-served basis.  To reserve your space, click on the button below

Venue: Full of Graze, 696 Mumbles Road,  Mumbles, Swansea SA3 4EH
Dates Available: Tues 22nd November 2022 and Wed 23rd November 2022
Time: 5pm
Cost: £85.00
Includes Christmas Wreath Class, a Graze board and fizz.  Places are limited to 10 people per workshop and is on a first-come-first-served basis.  To reserve your space, click on the button below