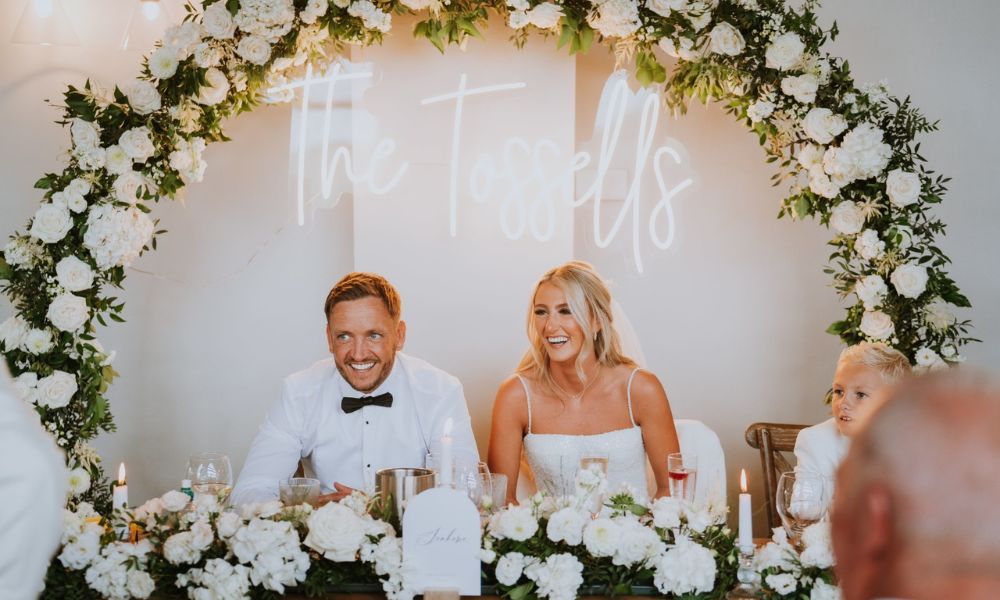 Wedding planning can be wonderfully exciting but also daunting, especially when you see your budget literally disappearing before your eyes. It's no secret that flowers can be pricey, and the post-Covid-Brexit price hike is quite frankly astronomical, but there are still ways in which you can be creative with your budget and blooms to maximise your wedding flower power!
Choose Seasonal Flowers
Firstly, choose seasonal stems. This will keep your costs and carbon footprint down; win, win!!
From sunny sunflowers in Summer to autumnal anemones, there are ALWAYS beautiful flowers in bloom, whatever the season. Discuss and work with your florist to find out exactly what flowers will be at their best around your wedding date, and trust their creativity and knowledge to source you the best blooms of the season.
Have a Statement Installation
Secondly, have a statement installation and re-work it throughout your day.
There are so many ways to do this; from a ceremony arch that's then placed behind the top table, ceremony aisle flowers that are combined to create a top table meadow and later used as evening table decor, or floral ladders at the church door that are moved to the reception entrance; the possibilities are endless!
Oh and don't forget that your flowers will also make epic photo booth backgrounds or backdrops for the band.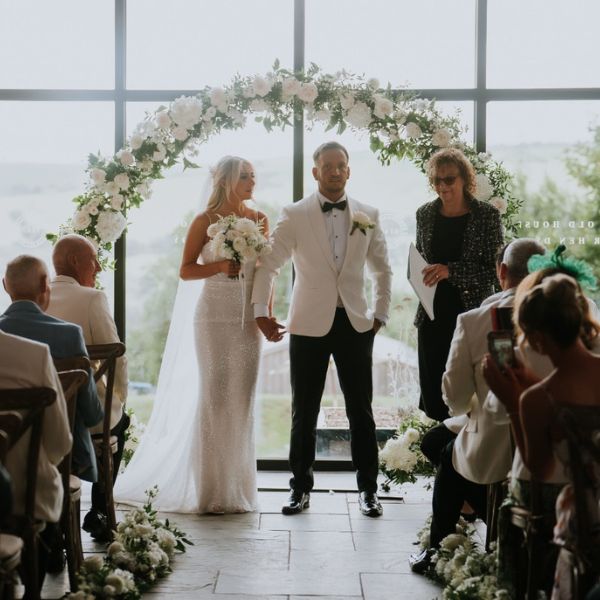 The set up of your day i.e. church to the reception venue or an 'all under one roof' day will determine exactly how you re-work your floral installations – your florist/venue stylist/wedding planner will usually be more than happy to help, or this is a great job to delegate to the Groomsmen.
Note that Groomsmen = free labour, but your florist or stylist will likely charge if they need to hang around to move your items!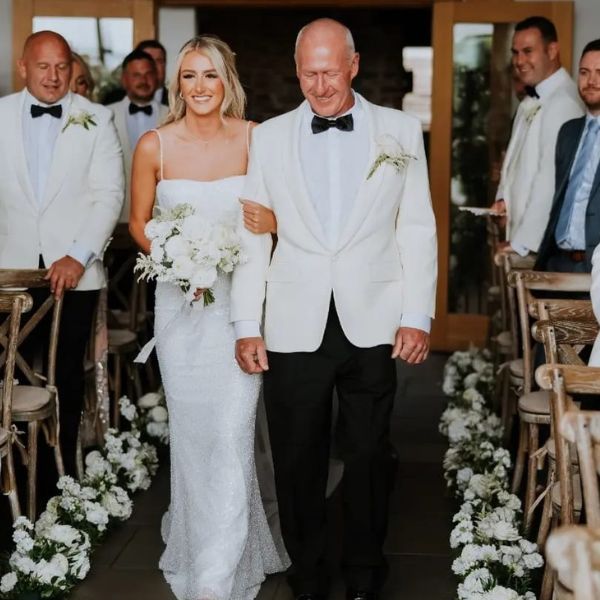 Go Big!
Another way to be savvy with your stems is to go BIG!
Large-headed flowers such as hydrangeas, garden roses and peonies may seem pricey on paper, but actually, they take up lots of space so you need fewer stems overall. Size definitely matters!
Lots of people assume that going green and bulking out your blooms with foliage will save cash, but actually, the price of foliage has skyrocketed over the last few years (remember that post-Covid-Brexit hike I mentioned earlier!), however there is another way of using foliage to stretch your budget and add a sentimental touch to your wedding flowers; raiding the garden!
Whether it's from your Dad's allotment, your Grandad's perfectly pruned garden or your in-law's farm, (legally) foraging for foliage is a thrifty and special way to bulk up your blooms, and it also provides a lovely talking point on the day! Please remember that you need a legal license to forage on public land.
Trust Your Florist
Finally, it sounds so simple, but please trust your florist. You're not just paying for the flowers themselves and the florist's time but for their talent, creative flair and years of experience.
Of course, your vision and input are essential, but your florist(s) are experts in the field and really do know their stuff (and they do this week in and week out!); from seasonal substitutions to on-the-day positioning, trust them to do their thing and rock your wedding flower world!
If you would like to have a chat about how we can help with your wedding flowers please just click the button below.